Freeride & Ski Touring


This season I am running a freeride & ski touring program out of Narvikfjellet, a small ski resort in Arctic Norway in the town of Narvik. Narvik has gained reputation for its excellent off-piste skiing right above the Arctic sea. The top of Narvikfjellet is the start of seemingly endless ski touring terrain and some of the best list-assisted off-piste skiing/snowboarding in Norway. This season, you can explore this terrain with an experienced and certified ACMG (Association Canadian Mountain Guides) Ski Guide. Whether you prefer a quiet ski tour or a day freeriding – we got something for you.

FREERIDE

Ride Narvikfjellet's legendary back-bowl lines like Mørkholla or Tredjeholla with a local ACMG Ski Guide! Going with a certified ski guide gives you access to first-hand avalanche information and the best snow of the day - and access to his favourite lines. Lifts take you to 1000 m, from where some runs are accessible - but the better lines require some walking up (20-30 min) to reach the north and south facing runs of Tredjetoppen (1272 m). Ski bindings with walking function or splitboards are preferable. Note that this program requires that upper chair lift to work. Should weather/winds prevent the lift from running, you have the option of switching to the ski touring program.

SKI TOURING

Narvikfjellet`s new cable car to 659 m gives you a quick start and immediate access right out of Narvik, and if weather permits, the chair lift to Linken 1003 m gives you even faster access. Once you put your skins on, you can quickly reach quiet areas with a large variety of ski touring terrain. Your ski guide will pick the best tour for you, depending on the weather, Avalanche conditions and Your Fitness Level. Examples include Tredjetoppen (1272 m) Moskočohkka (1254 m) and longer, demanding tours around Beisfjordtøtta (1448 m).
This program is designed for intermediate, advanced and expert skier or snow-/splitboarders with previous skitouring experience. If you are new to ski touring, we also run this tour as an introduction to ski touring, where your guide will share techniques and knowledge to increase your skiing skills and safety knowledge.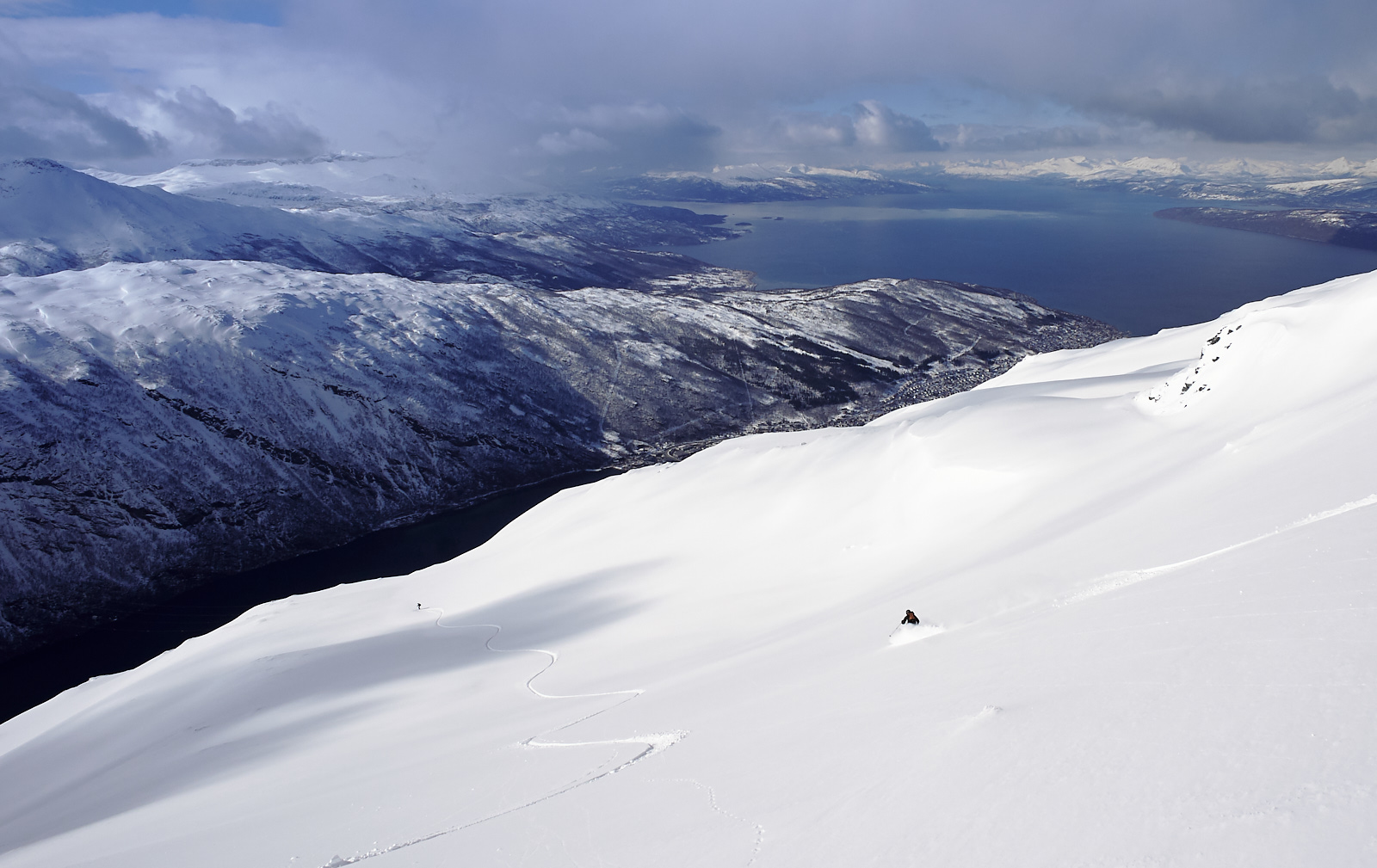 Date/Periods

Bookable every day from 20 January 2019 to April 2020.

Prior to 20 January, we run this programm as "Early Bird" special. The days are short, so you will need a proper headlamp - but, you will get the chance to see the Northern Lights while skiing the Narvikfjellet backcountry!
Time and Duration

09:30 - 17:00
21 Dec - 5 Jan
28 Feb - 8 March
3 - 13 April
Other periods:
Weekdays 12:30 – 19:00
Weekends 09:30 - 17:00
Incl. 30-45 min gear check, tour
and safety briefing
Prices (incl. lift ticket)

Early-Bird, late December - 19 January:
1 person private guiding: NOK 3000
Group of 2 people: NOK 1500 pp.
Group of 3 - 6 people: NOK 1025 pp.

Main season, 20 January - 30 April:
1 person private guiding: NOK 3500
Group of 2 people: 1750 NOK pp.
Group of 3 - 6 people: 1250 NOK pp.
Included in the price: Guiding + gondola ticket.
Meeting point: Lower cable car station at 09:30 / 12:30 (see time and duration).
This tour requires avalanche safety gear, and a helmet is strongly recommended. If you need to rent gear, please let us know.
Equipment list freeride: see here
Equipment list ski touring: see here
If you need to rent equipment of have any other questions, contact us.

This program runs in cooperation with Narvikfjellet ski resort. To book a day or more of freeriding or ski touring: